What is the Additional Support Offer for New Headteachers (ASO)?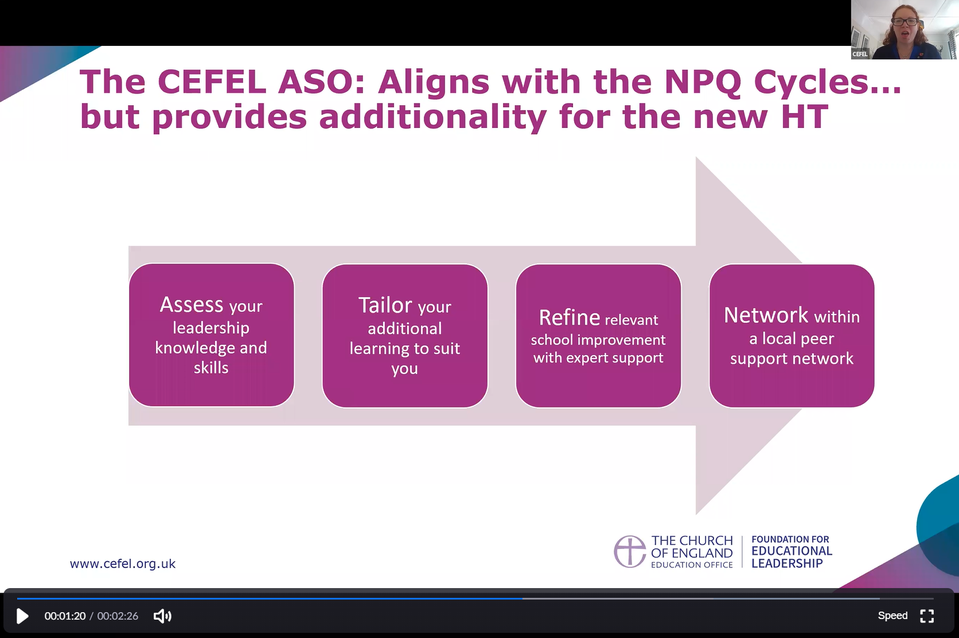 The Additional Support Offer for New Headteachers is a targeted package of support for Headteachers in their first two years of Headship. This is fully funded for all eligible participants (see eligibility criteria below).
The programme builds upon the NPQH framework, allowing Headteachers to explore and apply leadership challenges in greater depth whilst putting their learning immediately into practice at school.
Highlights of the offer are:
ASSESS: a detailed 360 leadership diagnostic, which covers the NPQH criteria and Headteacher standards, to identify key strengths and areas for growth
TAILOR: the ASO enables you to set personalised learning goals for your leadership journey, with access to an extensive research base
REFINE: highly relevant expert group coaching to support you through an area of school improvement you are already working on
NETWORK: opportunities to build relationships with other new Headteachers, to dig deep into the NPQH topics and share common challenges
There is no assessment for the ASO - it is entirely focused on new Headteacher development, wellbeing and support.
Why complete it with the Church of England?
The Church of England offers the opportunity to personalise your learning journey. We recognise that your time as a new Headteacher is precious and we will ensure you only spend time extending the learning that enables you to be a better school leader.
By building on our core Called, Connected, Committed learning principles and drawing upon the Church of England Vision for Education for inspiration, you will be offered a space and the tools to build peer networks that will sustain you throughout your career. Contacts with local dioceses will support Headteachers in understanding the specific requirements of leading a Church of England or Catholic school.
What support will I receive?
Our support package is structured around 5 learning cycles which are completed across four full academic terms.
After an initial Activate session to set personal learning goals, within each learning cycle Headteachers will access self led-learning, face to face peer support networks, and work in a small expert-led coaching group.
The focus throughout is on going deeper, applying further, and building sustaining and life-giving networks that offer support during the programme and beyond.
For further information see the Additional Support Offer Overview or watch this short film to learn more: ASO Find Out More Video
Who is eligible to take part?
You are eligible for this targeted support package if you meet the following criteria:
are in your first 24 months of headship
work in a state-funded school in England upon starting the training
have either completed an NPQH before taking up your first headship post or are currently taking the NPQH
have not withdrawn from the additional support programme previously
All places on this programme are funded by the Department for Education at a cost of £800 per participant. See more on funding here
Upcoming Deadline for Applications:
The deadline for the February 2022 cohort is 14 January 2022.
APPLYING FOR THE NPQ ADDITIONAL SUPPORT OFFER (NPQ ASO)
Step 1 - Register with the DFE
To confirm your eligibility to complete an NPQASO you should first complete the Department for Education online registration process.
To complete this form you will need to have your Teacher Reference Number (TRN) and School Unique Reference Number (URN) to hand.
Your TRN is a 7 digit number (formatted as xx/xxxxx) which can usually be found on your payslips, teachers' pension documentation, and other teacher training records. The TRN has previously been known as a QTS, GTC, DfE, DfES or DCSF number.
Please refer to this Teacher Reference Number (TRN) guidance if you are undertaking an NPQ and:
You know you have a TRN but are unsure / want to check what it is, or
Do not currently have a TRN and are working as a teacher / leader in England or living in England but not in a teaching leadership role at present.
Once you have completed Step 1, DO NOT WAIT FOR AN EMAIL FROM THE CHURCH OF ENGLAND but go directly to the Application Form link below and Apply.
Step 2 - Complete your Application Form
Next complete the Church of England NPQ application form. You can do this step straight away.
In this form you will be asked to name the course you are applying for and the local area where you live. You will also be asked to outline your relevant teaching/ leadership experience and provide the name and contact details of your sponsor.
Your sponsor will be your Headteacher unless you are the Headteacher yourself, in which case your sponsor should be your Chair of Governors. If you are an Executive Headteacher your sponsor should be the Chair of your Trustee Board.
Step 3 - Sponsor Endorsement
Ask your sponsor to complete the Sponsor Endorsement form by providing them with a link to the form: Sponsor Endorsement Form (tfaforms.net)
Ensure that they are aware that their endorsement form needs to be completed by the application deadline. You will be not be offered a place on an NPQ programme without the endorsement of the appropriate sponsor.