NPQ Programmes 2021-25

We are proud to announce that the Church of England (in partnership with the Catholic Education Service) will offer the full suite of NPQs to teachers and school leaders nationwide from September 2021


Why NPQs?
National Professional Qualifications (NPQs) are a nationally recognised suite of qualifications for teachers and school leaders at all levels - from those who want to develop expertise in high quality teaching practice to those leading multiple schools across a trust.
Gain a nationally recognised qualification
Learn from a rich curriculum based on evidence-based practice
Transfer your learning as and when you change schools
Complete your learning in a flexible way- both virtually and in regional face to face groups
In addition, the revised suite of NPQs has been refreshed to reduce the workload burden on teachers while still having the opportunity to develop and apply apply their knowledge, skills and understanding


Why complete your NPQ with the Church of England?
Completing your NPQ with the Church of England (in partnership with the Catholic Education Service) will give you the added benefits of:
Small group expert coaching for every leader on every programme, in partnership with Chartered College of Teaching and Leadership Matters
Learning alongside peers with shared commitment to vision-driven education (including focus on rural and small schools)
Expert facilitators from high-performing MATs/schools, Teaching School Hubs supported by leading academics bringing the research base alive
Support for your wellbeing and personal growth through our extensive Peer Support Networks, and Diocesan Education teams
Our mission is to develop school leaders to be Called to a lifegiving vocation, Connected to a thriving learning community, and Committed to evidence-informed excellence in education.
This is shown by our Participant Commitments:

Overview of Programmes
Whether you are a teacher looking to deepen your expertise or a school leader wanting to stretch yourself to the next transition in your career, we offer an NPQ programme which is suitable for you.
The reformed suite of NPQs no longer includes the NPQ for Middle Leadership as this has been replaced by three specialist teacher qualifications- NPQLT, NPQLBC, and NPQLTD.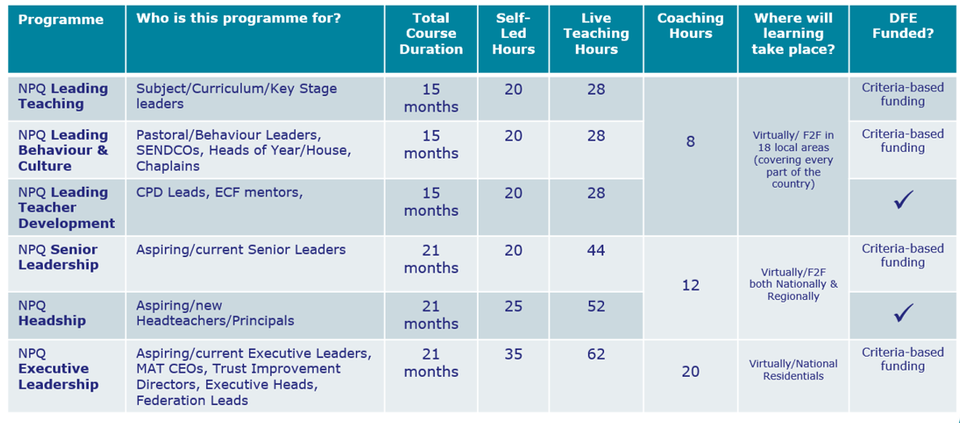 Funding
The Department for Education will provide full scholarship funding to teachers employed by an Eligible School* in England subject to availability on the following programmes:
National Professional Qualification for Headship (NPQH)
National Professional Qualification for Leading Teacher Development (NPQLTD)
NPQH Additional Support Offer for New Headteachers who are employed by an Eligible School* during their first two years in role
In addition, the Department for Education will provide targeted funding to teachers employed by an Eligible School*, that is within the top 30th percentile in relation to pupils on Pupil Premium, as of the end of the previous academic year on the following programmes:
NPQ for Leading Teaching (NPQLT)
NPQ for Leading Behaviour and Culture (NPQLBC)
NPQ for Senior Leadership (NPQSL)
NPQ for Executive Leadership (NPQEL)
*Check eligibility in Eligibility Checker for DFE Funding
Testimonials
Having delivered the National Professional Qualification for Headship to over 500 aspiring and new Headteachers, the quality of our programmes is evidenced by the testimony of participants and the MATs, dioceses and governors who have sponsored their learning.
"What a joy it was to hear the journeys and the impact the course had on the participant's own leadership. It is also great that four out of five are now headteachers within the diocese which is really positive from a succession point of view." Andrew Smith, Diocesan Director of Education, Diocese of York.
"The Church of England's offer is integral to our vision for the professional development over the next 4 years. We are thrilled to working with such a high quality partner and look forward to many of our leaders developing with the Church of England in their career pathway through the full suite of qualifications." Laurie Kwissa, CEO, Liverpool Diocese Schools Trust
"The Church of England's programme manage to brilliantly combine the depth of knowledge, research and instructional leadership with a transformational commitment to vision-driven, ethical leadership which has made a fantastic impact on leaders in our Trust." MAT CEO, Manchester
"I would like to thank you for the amazing communications that support the programme. Your reminders are keeping me really organised compared to other courses I've been on. The support organisation is first class and the resources are such high quality that, although times are difficult in education, the course is keeping me positive!" Alex Price, NPQH Participant, 2021
"The best CPD I have ever received. My leadership thinking and practice has been challenged, informed and transformed – this programme has had a major impact on my knowledge, confidence and vision as a leader." NPQH Participant 2021, West Midlands
As a leader of a small rural school, I often feel that CPD offers are so focused on bigger school contexts in cities. It's quite different leading in a rural community. These programmes have been so excellent for helping me lead in this context effectively and see the opportunities (rather than the challenges!) of amazing rural education." Rural School Leader, Cornwall
Find out More: Delivery Partners
See Delivery Partner Information below for more detail on how we will work with regional partners to deliver NPQs.
We shall be holding Regional Delivery Partner engagement events from 27th to 29th April. Please indicate your interest in attending through our Delivery Partner Application Form. In doing so you will receive registration details.
Sessions are:
WEST MIDLANDS - 27 April 2.00-3.30pm
SOUTH WEST - 27 April 3.30-5.00pm
NORTH EAST - 28 April 9.30-11.00am
NORTH WEST - 28 April 11.30am-1.00pm
SOUTH EAST - 28 April 1.30-3.00pm
EAST MIDLANDS - 29 April 11.30am-1.00pm
EASTERN - 29 April 1.30-3.00pm
If you wish to speak informally before doing so contact andy.wolfe@churchofengland.org.
Find out More: Launch Events for MATs and Schools
To find out more about how NPQs can support leadership development within your organisation, join one of our launch events. At these events you can expect to learn more about our research- based approach to learning and the benefits that can be specifically gained through selecting the Church of England as your NPQ provider.
Launch Events for CofE, Catholic and Mixed MATs
21 April 10.00-11.00am REGISTER HERE
22 April 1.30-2.30pm REGISTER HERE
Briefing for National Secondary Leadership Network
5 May 1.30-3.00pm REGISTER HERE
Find out More: Applicants
See NPQs- Participant Information for an introduction to NPQs. We will be opening applications on the 26th April 2021 so please complete our Expression of Interest form in order to receive further information when it becomes available.
By expressing an interest, we will let you know how to:
Join an NPQ Introduction Event to meet the team and ask questions
Attend a Research Webinar and gain fresh insights to apply to your work
Receive further information and alerts when applications formally open on 26th April 2021


Research Webinar: Evidence-Led Leadership Development
29th April 4.00-5.30pm
Our next Research Webinar presents an opportunity to explore the latest thinking on what it is that makes leadership development impactful.
Hear from members of the NPQ Expert Research Challenge Group and prepare to engage with new insights and ideas.
Hosted by: Professor Bill Lucas, Head of Research
Panel: : Toby Greany, Sam Twiselton, Philippa Cordingley, and Tanya Ovenden-Hope.
Register for this event here.
Key Downloads for Participants and Delivery Partners