National Professional Qualifications (NPQs)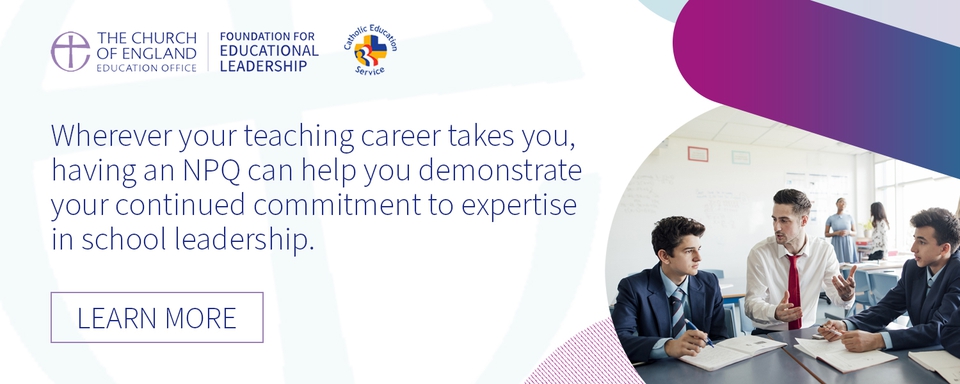 APPLYING FOR AN NPQ
Step 1 - Register with the DFE
To confirm your eligibility to complete an NPQ you should first complete the Department for Education online registration process.
To complete this form you will need to have your Teacher Reference Number (TRN) and School Unique Reference Number (URN) to hand.
Your TRN is a 7 digit number (formatted as xx/xxxxx) which can usually be found on your payslips, teachers' pension documentation, and other teacher training records. The TRN has previously been known as a QTS, GTC, DfE, DfES or DCSF number.
If you are applying only for the New Headteacher Additional Support Offer then you do not need to complete this step.
Step 2 - Complete your Application Form
Next complete the Church of England NPQ application form.
In this form you will be asked to name the course you are applying for and the local area where you live. You will also be asked to outline your relevant teaching/ leadership experience and provide the name and contact details of your sponsor.
Your sponsor will be your Headteacher unless you are the Headteacher yourself, in which case your sponsor should be your Chair of Governors. If you are an Executive Headteacher your sponsor should be the Chair of your Trustee Board.
Step 3 - Sponsor Endorsement
Ask your sponsor to complete the Sponsor Endorsement form by providing them with a link to the form: Sponsor Endorsement Form (tfaforms.net)
Ensure that they are aware that their endorsement form needs to be completed by the application deadline. You will be not be offered a place on an NPQ programme without the endorsement of the appropriate sponsor.

KEY DATES
For your application to be processed, approved, and an NPQ Programme offer made, ALL THREE STEPS above must be completed by the following application deadline dates.
Cohort 1, Nov 2021 Start: Application Deadline 25th September 2021
Offers made: by 15th October
Cohort 2, Feb 2022 Start: Application Deadline 14th January 2022
Offers made: by 4th February
Applications will be reviewed in the order that they are received so in the case of a course being oversubscribed, a late application is less likely be successful.
For further information about your application please contact npq@churchofengland.org, and if you haven't quite decided which NPQ is for you, browse our digital prospectus below.